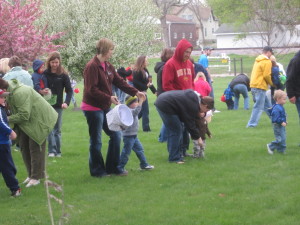 Credit: Springfield Moms
Print out a FREE Letter from the Easter Bunny, to add to their basket!
Build a FREE (or low cost) Easter Basket

! I needed to do this, because my daughter's birthday falls on the day before Easter!
Learn to make Gift Baskets like the Pro's. I learned that item placement is important!
Make your own super easy (super cheap) Easter Grass - BIG BONUS this stuff doesn't get everywhere/you won't find it floating around hidden in your house for 3 months later!
Don't miss out on this list of
10 Free Spring Break Activities for Kids
!
Free Easter Egg Hunt at County Market - Kids can enjoy a Free Easter egg hunt, and Free Pepsi/snacks. Grant Middle School, 1900 W. Monroe St, across from the County Market on Monroe St. @11 am. Sponsored by Pepsi. March 30th.



Easter egg hunt @ Lincoln Park District's Sports Center


Rain or shine (will be inside the Sports Center if it rains)
10 a.m.: children through age 2
10:15 a.m.: children 3 to 4
10:30 a.m.: children 5 to 6
10:45 a.m.: children 7 to 8
For more information call 732-8770.



Chatham Jaycee's Easter egg hunt


Chatham village square
11 a.m. Three age groups: pre-K/kindergarteners, first to third graders, fourth and fifth graders. Bring an Easter basket or other container for candy.



WDBR's Easter Eggstravaganza


Knight's Action Park
Egg hunts at 10 a.m., 11 a.m. and noon
Free event, children through age 6 welcome. Separate hunt area for children age 3 and younger. Visit the Easter bunny.

Easter Eggstravaganza
Pawnee Assembly of God, 1001 N. Eighth St.
10 a.m. to noon
For children ages 3 to 10. Stories, crafts, snacks and an egg hunt. Call 625-2111 for more information.
March 23:
Easter egg hunt


Sherman Church of the Nazarene, 7085 Village Center Drive
After the morning worship service (10:40 a.m.)
Egg hunt divided into three areas according to age level. Each area will have a "golden egg" with a special prize. All participants will receive a gift bag. For more information, call 496-3255 or visit

www.shermannaz.com

.

March 15-30:

Easter Bunny at White Oaks Mall in Springfield

. Visit the Easter Bunny at the lower level -Macy's Wing. Plus, All Aboard the Easter Express Kiddie Train.

March 22:

Chatham Baptist Church will be hosting an Easter Egg Hunt from 6:30 – 7:30 PM

. The Easter Egg Hunt is for 1 year olds up to 3rd grade. Place your RSVP by Monday, March 18th by email noting the number of children and their ages at chathampreschool@comcast.net.

March 23:

Easter Egg Scramble & Pancake Breakfast South Side Christian Church

's MacArthur Campus will host a pancake breakfast and Easter Egg Scramble! Breakfast will be served from 9-10 and kid's activities will begin at 10. Activities will include bounce houses, games, face-painting, crafts, snacks, door prizes and egg hunts for babies through 5th graders! This is a free event for the whole community. Contact Info: South Side Christian Church, 2600 S. MacArthur. 525-0304

March 23:

Easter Egg Hunt at Chatham Presbyterian

10:00 a.m. 1835 E. Walnut, Chatham. The community is invited for the fun!

March 23:

Breakfast with the Easter Bunny

: The Easter Bunny will be making an appearance on Saturday, March 23rd at the Henson Robinson Zoo. The event will be held from 8:00 a.m. to 10:00 a.m. A continental breakfast will be served and egg hunts will be held for kids 12 and under. The Easter Bunny will be available for photos throughout the morning. Visitors will also be able to observe as many of the zoo's animals receive special treats. A limited number of special grand prize eggs will be hidden around the zoo for families to search for as exploring the zoo. The cost is $9 per adult and $7 per child for residents of the Springfield Park District and zoo members or $10 per adult and $8 per child for nonresidents. Reservations and prepayment are required. Space is limited. Reservations may be made by calling the zoo at (217)585-1821.

March 23:

Easter Egg Hunt

: kids 5 and up go through obstacle course to get eggs. Kids 4 and under will have a low-key hunt area. At the Jacksonville Public Library, 201 West College Avenue, Jacksonville. 243-5435.

March 23:

WDBR Easter Eggstravaganza Hunt

: 10 am, 11 am and noon. Foro children ages 6 and younger. Separate hunt for children ages 3 and under. Free. At Knight's Action Park, 1700 Knights Recreation Drive, Springfield. 546-8881.

March 30: Heartland Community Church Easter Egg Hunt – Easter egg hunts for infants, toddlers, and children up to 12 years old. Rain or shine. FREE admission, Children's music and storytelling. Bring a basket to collect the eggs!, At 3253 N. Brush College Road, Decatur. 877-9529. 10:00am to Noon. Macon County's Largest Egg Hunt, which is the LARGEST egg hunt in all of Central Illinois, features over 100,000+ Easter Eggs, Giveaways, Blacklight Puppet Show, Carnival Games and more! Also a hunt available for individuals with disabilities of all ages. You can

pre-register at their website

March 30:

Girard Easter Egg Hunt

from 11 a.m. to 1 p.m. at the Girard Town Square. Four egg hunts will be held at the following times: 11:15 a.m., 0-2 years old; 11:30 a.m., 3yrs-4yrs old; 11:45 a.m. K-1st grade; Noon, 2nd-3rd grade; 12:15 p.m. 4th-5th grade. A drawing for prizes will be held at 12:30 p.m. Miss Illinois, Megan Ervin, will make a special appearance at the Egg Hunt and will be available for pictures and autographs. Bounce houses, live music and free food and drinks will also be available. The Girard Easter Egg Hunt is sponsored by First Baptist Church, Girard.

March 30:

Chatham Jaycees Easter Egg Hunt

– on the village square in Chatham. 11 am. Bring your own basket or bag. Three age groups.